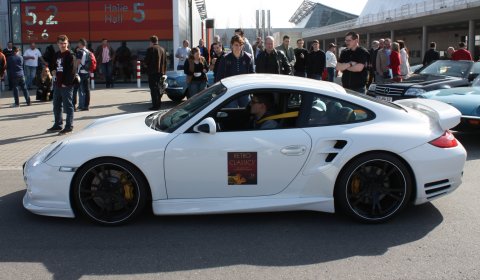 The classic car show "Retro Classics" in Stuttgart was held last weekend on 10 to 13 March. The trade fairgrounds were packed with the latest sports cars and historical vehicles. The event included around 1,300 exhibitors with over 3,000 vehicles on 105,000 square meters of exhibition space.
TechArt took their white 2010 997 Turbo MkII to the event and was present with the car at the "Visitor's tour". The visitors had the chance to drive as a co-driver in the tuned sports car on Saturday and Sunday. The German tuner provided us with a series of pictures showing the vehicle at the event. In the gallery below you will find six pictures.
If you want to know more about the TechArt 911 Turbo please read our road test.