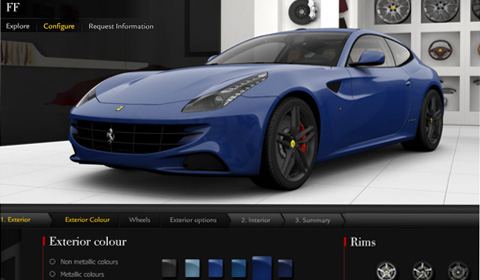 Ferrari has launched the online configurator where you can customize the FF. Designed to replace the 612 Scaglietti, this is Ferrari's first production four-wheel drive model and Ferrari's first production shooting-brake.
The configurator is divided in two main categories, exterior and interior, each of which are divided into more sub-categories. For the exterior, a palette of colors is available for this grand tourer, ranging from metallic and non-metallic to special colors. Customizers can choose from four different set of wheels, for coloring the brake calipers there is a choice of six colors.
The amount of possible configurations for the interior compartment is very impressive. You can choose for a single or a dual colored trim entirely made out of leather or in a combination of leather and alcantara. A special leather treatment for the whole interior is also possible. Contrasting stitching is optional, just like a special stitching. There is a choice of three kind of seats, which can be fully electrical and even ventilated. It is also possible to choose the colors for the rev counter, seat belts, carpets, dashboard and many more parts. A carbon fibered trim is also optional.
The collection of options is also very impressive. These include sport exhaust pipes, chromed edges for the front grille, mirrors in contrasting colors, parking sensors and cameras. For the rear sets an entertainment system is available. Other options are a fire extinguisher, anti-theft system, a special luggage set for in the boot and many more.
With all these kind of options, materials and colors it would almost be impossible to not succeed in customizing your ideal Ferrari FF. Customers who want to build their dream version of the FF have to be patient. Despite the planned production of 800 Ferrari FF's annually, the whole production for 2012 has been sold out.
Click here visit the Ferrari configurator. And how would your ideal Ferrari FF looks like? Feel free to share your thoughts below!