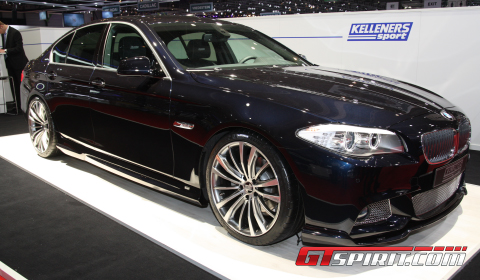 German tuner Kelleners showed a sport package for the BMW 535i in Essen back in December. In Geneva they show a more detailed M-package for the BMW 5 and 3 Series.
The comprehensive aerodynamics package, an enhanced performance, an optimised suspension and stylish upgrade of the interior transform the already sporty-looking saloon into a really racy vehicle. Kelleners Sport engineers have unleashed around 20 per cent more engine power for petrol and diesel models.
The 520d, for instance, now reaches 218hp, instead of the standard 184hp, and maximum torque reaches 450 instead of 380 Newton meters. The performance of the 535i jumps from 306hp to 367hp with maximum torque increasing from 400 to 480 Newton meters.