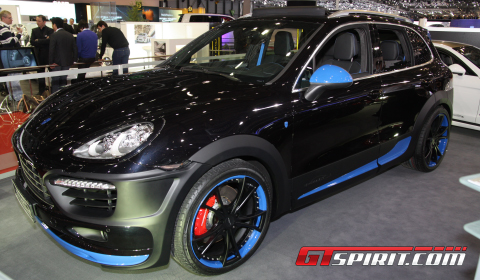 During the Essen Motor Show last November the guys from SpeedArt showed their Cayenne Titan Evo to the world. We reported that the package wasn't completely finished and that SpeedArt would bring an upgraded SUV to Geneva.
The Titan Evo XL 600 is the result. The upgrades include a new sporty front chin spoiler, rear diffuser and wider fender flares including new door planking. The striping was changed from blue to red.
The SpeedART Cayenne comes also with a new exhaust system and a performance upgrade. The Cayenne Diesel receives 50 extra horsepower, the Hybrid 70hp, and the Turbo 10 hp and 150Nm of torque. So the '600′ in the name of the program stands for the 600hp power upgrade in the Porsche Cayenne Turbo.