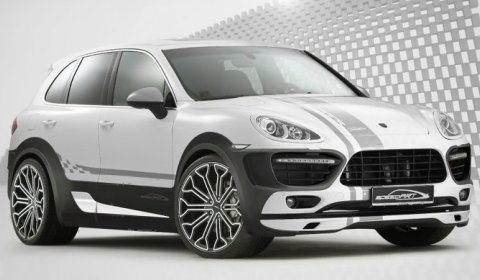 German tuner SpeedArt is heading to Geneva for the release of their latest package for the second generation Porsche Cayenne. Initially, we do not see any major difference with respect to the package we saw in Essen 2010.
The pictures of the 600hp-strong SpeedArt Titan Evo XL 600 show the same package previewed before the Essen Motor Show back in November. Only some minor parts have been changed, referring to the XL in the new name of program. They include a sporty front chin spoiler, the rear diffuser and the wider fender flares including the new door planking. The striping shall be changed from blue to red.
On the technical side SpeedART outfittes the SUV with a new exhaust system and a performance upgrade. The Porsche Cayenne Diesel receives 50 extra horsepower, the Hybrid 70hp, and the Turbo 100hp and 150Nm of torque. So the '600' in the name of the program stands for the 600hp power upgrade in the Porsche Cayenne Turbo. A 650hp and 700hp program are in the making.
So overall, not a lot is new, it's just the name.
[Via Autogespot.com]