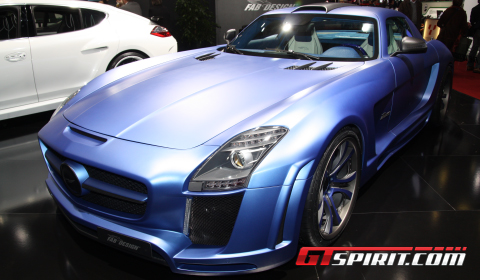 Swiss tuner FAB Design has officially revealed the SLS Widebody at the Geneva Motor Show yesterday.
The Mercedes SLS AMG is not new to the Swiss tuners, FAB Design presented their take on the Mercedes-Benz SLS AMG back in October. Last month we received pictures of a FAB Design SLS Widebody, which was on display in a showroom in Dubai, UAE.
The FAB Design Widebody shows completely redesigned fenders and side skirts, which form together with the quarter panels one seamless panel. At the rear, the SLS got a new bumper and diffuser, and a new look for the taillights. A sport suspension can also be fitted.
The FAB developers have tightened up the performance and thus achieved an every day performance of 615hp together with 690Nm of torque that already hits in at 4,600rpm. The car only needs 3.6 seconds for the sprint to 100km/h and after just 11 seconds it has left the 200 mark behind. At 325km/h does the acceleration come to an end.
Any thoughts on the new design of this German sports car? The live pictures speak for themselves.