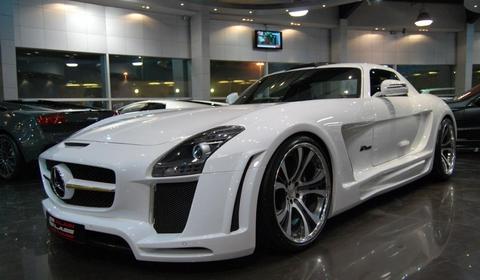 Back in October we saw a first glimpse of what had to become the FAB Design Mercedes-Benz SLS AMG bodykit. The finished car was spotted in the Al-Ain Class Motors showroom in Dubai. Eye-catching is the fact that the finished product is different from the one we saw earlier.
The SLS displayed in the Dubai showroom is a widebody version of the first edition FAB Design SLS. The fenders have been completely redesigned and the side skirts together with the quarter panels are one seemless panel that fits the existing panels.
At the back, the SLS got a reviewed bumper with new diffuser and a new look for the taillights. Additionally, a sport suspension can be fitted.
What power or performance upgrade is hiding under the hood is unknown, but what we know is that FAB Design offers a sport exhaust system increasing the output from 563hp to 603hp.
[Via WorldCarFans]