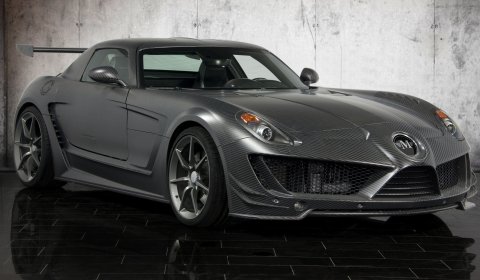 The Mansory Cormeum is the latest project from the German tuner and a full carbon Mercedes SLS AMG. 660hp and 90kg less weight are two major points related to this limited edition of 15 cars. The name was picked personally by Kourosh Mansory and which is an aria was already the source of his inspiration for the refined Bugatti Veyron (Vincerò) and this time it is the aria Vide Cor meum.
The front skirt replaces the serial bumper. The larger air inlets are combined with a new LED light unit. The new front skirt supplies the enlarged cooler with more fresh air and subsequently propels the air out of the new bonnet. Mansory also replaces the front and rear mudguards with broader newly designed light-weight parts. The Cormeum extends by 66 millimetres at the front axle and 84 millimetres at the rear axle. Side skirts make the two-seater look even lower and longer. The rear apron has been exchanged and a race diffuser renders additional downforce. A rear spoiler with carbon flaps completes the aerodynamic overall package.
The extended wheel houses are filled with forged wheels with central locking. They measure 9×20 inches with 265/30er tyres at the front and 11×21 inches with 295/25er tyres at the rear axle. The tyres are provided by Michelin. Due to new springs and dampers, the Cormeum' s center of gravity is 20mm lower than the basic model.
The core part of the engine modification is the adjustment of the compressors. Also a sports air filter and a sports exhaust system made of stainless steel are fitted. The performance increase is 660hp and a maximum torque of 4,850rpm. Mansory is working an another performance with an increase up to 800hp.
On the inside got a wide variety of materials, such as leather on the newly designed centre console. The newly developed sports steering wheel, aluminium pedals and the real carbon applications complete the interior package of the Cormeum.
The Mansory SLS AMG Cormeum will have its public debut tomorrow at the Geneva Motor Show.