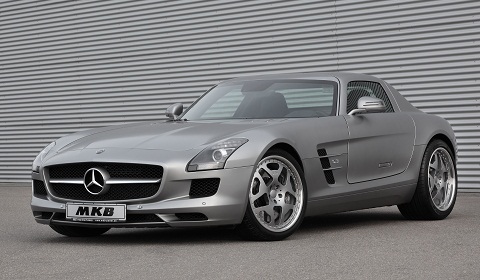 German tuners, MKB have released a power and aerodynamics package for the Mercedes-Benz SLS AMG. The new tuning kit is one of a number emerging onto the market following the cars recent release. This package is a subtle one though, unlike some of the others we've seen recently!
Power is increased from 571 to 638hp and torque from 650 to 710Nm. MKB acheieves this 'stage one' tune by using only a software upgrade, releasing the engine's full potential. 0-100km/h happens in just 3.7 seconds with 200km/h in 10.5 and a top speed limited to 330km/h. To offer the package, MKB had to go back to basics with the engine management and redesign their product for the AMG re-designed 6.3 liter naturally aspirated V8. A new air intake and exhaust system add a sound track and a little extra power to the car.
The wheel set is the MKB Alpha III with Michelin Pilot Super Sport tyres at the front axle, sized 9,5×20 and 275/35 ZR20 and at the real axle 11,5×20 and 295/35 ZR20. MKB offers the conversion MKB P 640 with German TÜV homologation, emission class Euro 5 and a full MKB warranty.