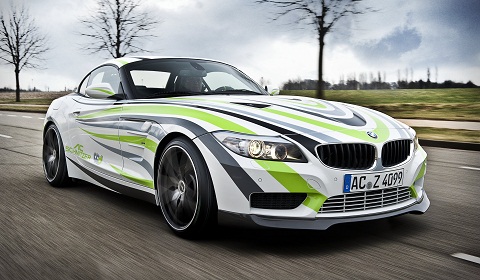 AC Schnitzer's second release for the 2011 Geneva Auto Salon is the AC Schnitzer 99d based on the BMW Z4 with the engine from the BMW 320d Efficient. The concept for this is lightweight, twined with speed.
Power coming from the 2.0 liter diesel engine is 190hp with torque of 420Nm; enough to propel the small sports car to a v-max top speed of 235km/h. 0-100km/h will be possible in just 6.9 seconds. Weight reductions of 230kg have been applied.
With CO2 emissions of just 99.18g/km and fuel consumption of 3.8 liter diesel (combined), AC Schnitzer are keen to emphasise the car's green credentials.
More photos to follow tomorrow from the show floor.