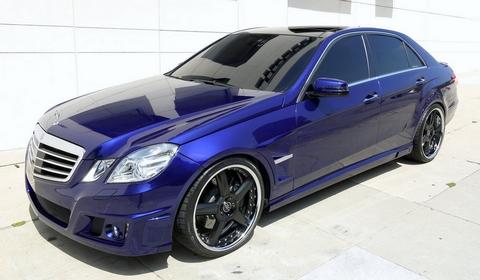 California based tuner, CEC Wheels, has created two identical packages for two Mercedes-Benz' that will be used in the new Transformers movie, Dark of the Moon, released this summer.
Long time CEC customer and acclaimed producer, Michael Bay, contacted Claus Ettensberger a while back to help design the newest Autobot for the upcoming action thriller. With a base Mercedes-Benz E550 as the platform, CEC went to work transforming two identical stock sedans into deception killers with style.
The conversion included a new custom blue paint job, specifically chosen by Michael Bay, to make the character really stand out. The CEC enhancements incorporated a custom aerodynamic kit, front spoiler, side skirts, rear skirt, deck lid spoiler, fenders, suspension and exhaust system. The stock wheels/tires were replaced with 20 inch CEC C725 forged wheels and Michelin PS2 tires.