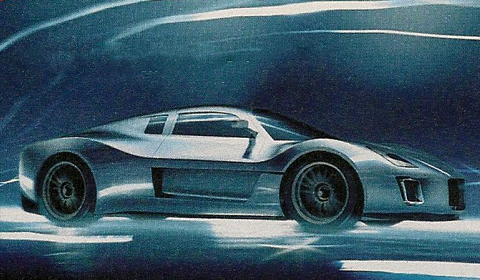 The Gumpert Tornante is one of the world premieres to be unveiled at the Geneva Motor Show. The German manufacturer showed two teasers, one showing the car from above and one ¾ rear view.
Now there is a new drawing showing the side view of the Tornante. This drawing was made for an Italian magazine. Although there isn't a confirmation whether or not this drawing is official, the bodywork of the car matches the teasers quite well.
The Gumpert Tornante is a two seater coupe and based on the Apollo. The bodwork is designed by Italian couchbuilder Touring Superleggera. Scheduled to be available as of 2012, this new bespoke supercar is built on an advanced chrome-molybdenum steel space frame with a carbon fiber monocoque aiming at lightweight and stiffness. Powered by the same engine as the Gumpert Apollo, the 4.2 liter V8 biturbo delivers 700hp.
The Gumpert Tornante will make it first public appearance on Tuesday, March 1st 2011 at 15:00. GTspirit will be there so stay tuned!
[Via Autoblog.nl]