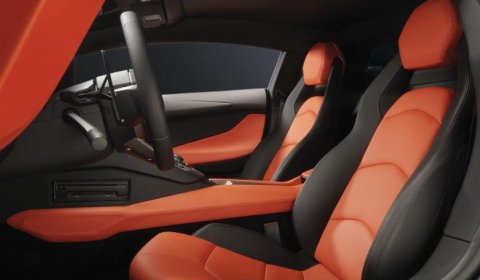 The spree of Lamborghini LP700-4 Aventador pictures being leaked out into the open is continueing today. Three new pictures have been revealed via LamboPower. The pictures give us a good overview of the engine compartment, interior and the side airvent just behind the right rear window.
The engine compartment holds the 6.5 liter V12 engine that produces 700hp and 690Nm of torque. Linked to a seven-speed ISR automatic gearbox the power is converted to the Haldex four-wheel drive system. A sprint from zero to 100km/h is done in less than 3.0 seconds, 2.9 to be precise. The top speed is 350km/h.
The interior compartment shows two sporty seats with two-tone leather trim. The center console is going upwards quite rapidly with respect to the seating position of the driver. The paddle shift levers are not connected to the steering wheel and the CD/DVD-player can only be accessed by the driver.
The final image shows the rear air vents at the right hand side of the supercar. It also shows us the hexagonal petrol tank cap.
For more pictures of the 2012 Lamborghini LP700-4 Aventador click here.
Stay tuned for more in the upcoming days!