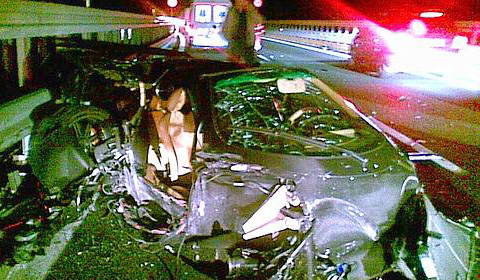 The owner of a carbon fiber/black Pagani Zonda F Clubsport Roadster has survived crashing his supercar at 320km/h on the A10 motorway near Spotorno, Italy. He was heading back to Monaco coming from Genoa.
The 28-year-old German citizen crashed his Monaco registered Zonda two nights ago, after losing control, spinning, tearing off the front wheels and bodywork against a guardrail, before he shot across the motor way before he came to a halt against the guardrail on the opposite side. Thankfully the passenger cell remained intact and he was able to walk away, as was his 21-year-old passenger.
Update: GTspirit can exclusively reveal that the person who crashed his newly bought Zonda is the new owner of German tuner Gemballa and Prestige Cars Magazine. He came back from a private showing of the Pagania Huayra in Italy. According to the driver the road quality was bad due to standing water on the highway and he lost his car at a speed of just over 100km/h. With these kind of speeds and in these kind of situations controlling the high powerful Zonda is almost impossible.
We can confirm that he is one of the first persons who ordered the new hypercar together with a new Zonda. He did not tell us which Zonda it will be. The vehicles will be added to his collection of supercars, which among other sports cars includes two Bugatti Veyrons, Gemballa Mirage GT, Lamborghini Gallardo, Lamborghini Murciélago, Gemballa Avalanche BiTurbo and a newly ordered McLaren MP4-12C.