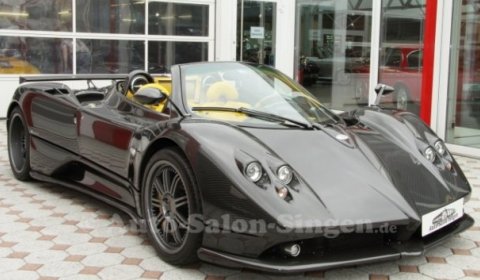 German car selling dealership Auto Salon Singen is offering a unique Pagani Zonda F Roadster Clubsport. The Italian hypercar is one out of a limited series of 15 C12S-CS-ROAD models and listed with a price of € 965,000.
The hypercar package includes the Mercedes-Benz AMG V12 engine producing 780Nm of torque, a power-to-weight ratio of 1,89kg/hp, rear wheel drive with self-locking differential and a mechanical six speed gearbox. The performance of this sports car is 0-100km/h in 3,6 seconds, 0-200km/h in 9,8 seconds and 200-0km/h in 4,4 seconds. Top speed is 345km/h.
The sales organisation has an option list available including Brembo Carbon Ceramic brakes with yellow calipers, lifting system, inconel and titanium exhaust system, Nardi steering wheel in traditional wood, engine covers in carbon fiber and aluminium parts in special dark color.
The car was made in 2007 and has a mileage of 5000km.
More information and pictures can be found on Jameslist.com.
Update: The hypercar featured here was sold last week to a good friend of GTspirit. We wish him all the luck with his Pagani Zonda F Roadster Clubsport.