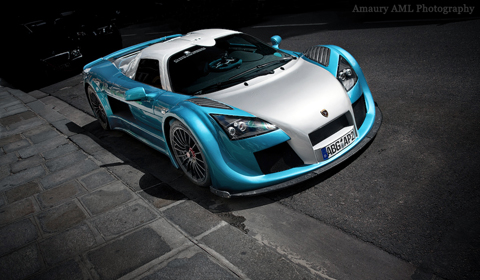 The Gumpert Apollo Speed is the fastest Apollo variant ever built by the German supercar manufacturer. Specially engineered for high speeds, the air resistance is lowered by enhanced aerodynamics and downforce has decreased a bit by removing the rear wing and revising the tail. This sports car is also sleeker and lower than the regular Apollo.
This car is powered by a twin-turbo version of Audi's 4.2 liter V8 which provides 700hp and a torque of 875Nm. The car goes from 0 to 100km/h in 3.0 seconds, 200km/h is reached in 8.9 seconds and the top speed is over 360km/h.
The Apollo is also available with an output of 650hp and a torque of 850Nm. For the true petrolhead there is the 800hp version with an impressive torque of 900Nm.
This amazing picture of this car parked in the streets of Paris was made by Amaury AML. For more stunning shots, check out his photostream at Flickr.