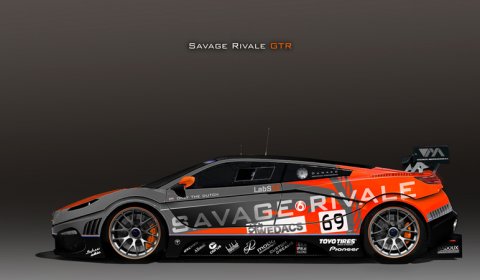 Savage Rivale shows its pedigree by developing a race version of the Roadyacht GTS. The guys from the Hague, the Netherlands, are building a two-door hardcore race version of the four-door GTS. The production is only on request, limited to 69 units, and the racer is called Savage Rivale GTR.
Emile Pop says:
This time there's no balance of all three statements; panorama, performance, and people sharing their exceptional experiences together, in one car. Instead we decided to focus solely on high performance and the experience of driving, a brutal engine, a superlight and strong chassis combined with the latest aerodynamics, packed in the futuristic Savage Rivale suit.

We from Savage Rivale enable clients to entirely tweak and co-operate with our factory to enhance the GTR to become their personal masterpiece. There is even the possibility for our clients to develop their GTR into the full grown GTS.
The GTR version contrasts his big GTS brother by being the bad boy in town. The 6.2 liter V8 engine develops around 700bhp. The chassis is designed entirely with the use of high tech computer techniques such as FEM. The steel tubular space frame chassis is safe with a high torque stiffness, weighing just under 115kg.
A flat floor with a unique 'suction deck' guarantees stability and car control from 0-325km/h. Up on request more seats can be added for a multi-person experience.