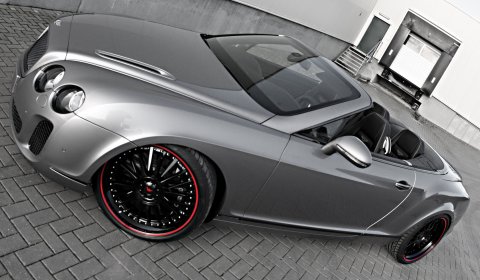 In the beginning of 2010 wheelsandmore already presented their performance upgrades for the Continental Supersports. As the convertible version is barely available they also developed a special tuning package. With a serial power of 630hp the Bentley Continental Supersports already is the most powerful and fastest four-seater convertible ever built.
For the Bentley Continental Convertible Wheelsandmore developed an ECU upgrade, combined with a stainless steel exhaust system and special sport catalysts. The power is increased up to 702bhp and 880lb-ft of torque. As the Bentley Supersports is not only coming with the biggest engine, but also with one of the biggest carbon-ceramic brakes, measuring 16.54 inches.
Assembled with three-pieces, the C-Sport wheels, sizing 10,5×21 inch, can be customized any colour and surface the customer is able to imagine. Finally the suspension can be switched up and down by using an electronic lowering module called "LowMaXX". This device lifts up the car automatically around 0.79 inches at a speed of 44mph to recover comfort and safety.