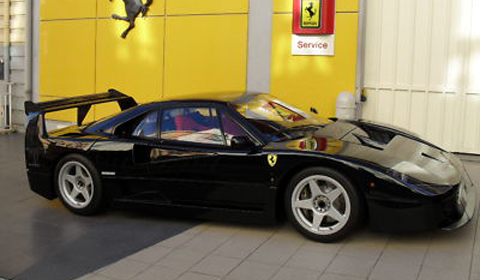 The Ferrari F40 is one of the most important supercars of the eighties. To celebrate the manufacturer's 40th anniversary, Ferrari launched the F40 in 1987. In those days it was Ferrari's fastest, most powerful, and most expensive car. A total of 1,315 F40's had been produced, but only 19 of those were converted into the F40 LM.
Ferrari specialist and tuner Michelotto was commissioned by Ferrari to turn the F40 into a racer for the track. The engine output was increased, the bodywork modified and the interior was stripped. The F40 LM can accelerate to 100km/h in 3.1 seconds and top speed is 368.5km/h.
One of these rare and collectible cars is for sale in Monaco. This car has never been used in racing and comes with an extra powerful V8 engine. Also included are parts of the bodywork which makes it possible to configure this car back into a 'regular' F40. The price is € 400,000 and more information can be found at Mobile.de.