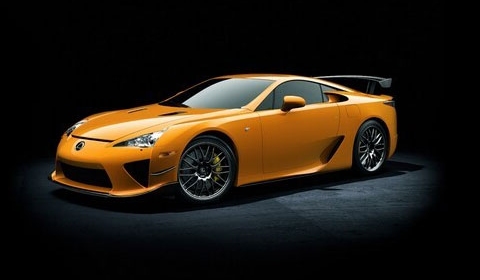 Lexus will finally show their Lexus LFA Nurburgring Edition at the upcoming Geneva Motor Show. The special edition of the LFA supercar will have its official world debut at the most important European car show and costs an extra $ 70,000. The standard LFA carries a MSRP of $ 375,000.
The Nurburgring Package will be available on up to 50 of the 500 LFA units Lexus is building. It includes a 10bhp power boost for its 4.8 liter V10 engine to 562bhp thanks to a revised exhaust system, while a recalibrated six-speed transmission cuts shift speeds from 0.2 sec to 0.15 sec. Sprint times and top speed stay the same.
On the outside you will spot a larger fixed rear wing and a new front splitter. The track-biased supercar will be available in four colours: Black, Matte Black, Whitest White and Orange. Matte black will carry an additional cost of $ 20,000.
On the technical side a stiffer suspension system with increased adjustability and new lightweight alloys featuring semi-slick tyres are outfitted to the vehicle.
Buyers will also get a day of one-on-one driving tuition at the 'Ring, as well as a 365-day pass to the Nordschleife.
Stay tuned for more from the event that starts in less than three weeks!