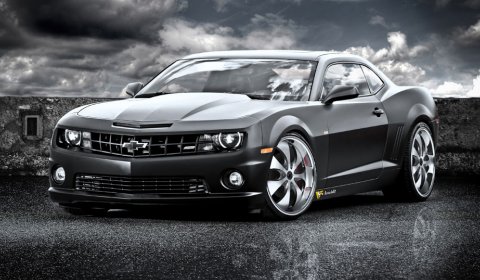 In Herten, Germany, you can find the Speed Box car workshop were the following Chevrolet Camaro SS received its tuning.
The 6.2 liter V8 engine produces 432hp standard at a maximum torque of 569Nm. After installing a compressor kit the Camaro produces 625hp. Additionally, they outfitted the vehicle with a BORLA stainless steel exhaust half-system and matt black body paintwork.
The wheel/tire combination named Rhino sizes 265/30-R22 and 295/25-R22 tires 10×22 inch and 11×22 inch wheels, without wheel arch crimping. In addition, the Rhino rims have especially weather proof stainless steel faceplates, that can be replaced in case of damage in a cheap and quick way. The Rhino light alloy rims are available in 9×20, 10×22 and 11×22 inch.
The compressor kit changes owner for € 8,999, BORLA stainless steel exhaust half-system costs € 999 and the matt black paint job goes for € 3,500. The wheel set price includes tires is € 3,399. Additionally, Speed Box added H&R coilovers for € 1,272. H&R stabilizers are optional for another € 530, which improves the driving dynamics sensibly.