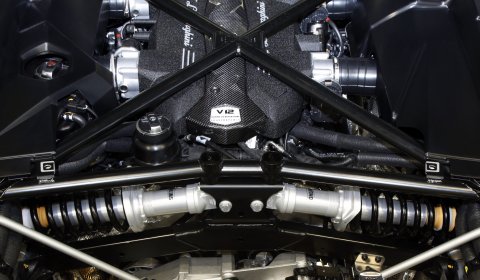 The new Lamborghini V12 super sports car which will debut at the upcoming Geneva motorshow will feature a new suspension concept. The pushrod spring and damper concept was inspired by Formula 1. Together with aluminum double wishbone suspension and a carbon ceramic brake system, this lightweight chassis is another element of Lamborghini's new flagship model.
The spring/damper elements are not located on the wheel mounts, but connected inboard to the bodyshell structure. They are transversely positioned: under the windscreen in the front and close to the engine in the rear. Pushrods and relay levers / rockers transmit the forces from the wheel mounts to the spring/damper elements.
Due to the combination of the double wishbone and pushrod arrangement, wheel control and damper remain separate from each other. As a result, handling is more responsive and easier to manage at all speeds, while rigid connection to the chassis also improves the precise and spontaneous reaction of the springs and dampers. As a result, spring stiffness can be notched back a little – comfort increases, while precision remains. On the front axle, the shock absorbers are equipped with a hydraulic lifting system, which enables the front end of the super sports car to be lifted by 40 millimeters at the touch of a button, simplifying its ability to negotiate minor obstacles.
The entire suspension system, including upper and lower control arms, wheel mounts and relay levers are made from forged aluminum alloy. The large-diameter discs on the high-performance brake system, on the other hand, are made from hardwearing carbon ceramic composite material. On the front axle, the ventilated discs measure 400 millimeters in diameter, with braking force delivered via six cylinder calipers. On the rear axle, 380 millimeter diameter discs are used in combination with four cylinder calipers. The parking brake on the new Lamborghini top model is electrically powered.
The hydraulic steering on the Lamborghini V12 forms a "sensitive" connection between the driver and the sports car, which runs on 19 inch wheels clad on 255/35 tires at the front and 20 inch rims on 335/30 tires at the rear. Steering Gear foresees three different servotronic characteristics managed by drive select mode including corsa.