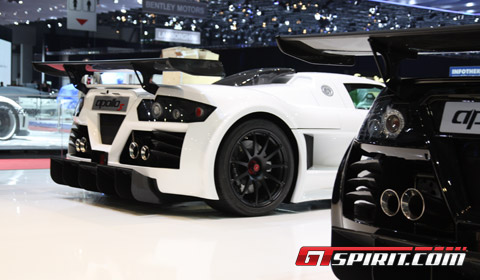 Gumpert, the German supercar manufacturer, just announced the first addition to their line-up since the introduction of the original Gumpert Apollo, the Gumpert Tornante. It celebrate its premiere at the Geneva Motor Show 2011 beginning of March. The new Gumpert will be a two-seater fast tourer based on a new central engine chassis with a V8. The Gumpert Tornante is designed by Touring Superleggera, a company that we know from the Bentley Continental Flying Star among others.
Press Release:
World premiere of the GUMPERT TORNANTE by TOURING in Geneva
TOURING SUPERLEGGERA was commissioned by GUMPERT to design their upcoming new model, a 2-seater Fast Tourer based on a new central engine chassis and V8-powered driveline. After setting new benchmarks for driving dynamics of street legal cars with the apollo, GUMPERT requested the Milanese designer to add space, elegance and comfort to their typical sheer performance attitude. The result is a blend of very Italian sporty elegance and German high-end engineering.

The GUMPERT TORNANTE by TOURING opens a new class of automobiles born for the extremely dynamic and fast voyage, the Fast Tourers. The Tornante features the original Superleggera construction principle: composite body panels on a space frame with carbon fiber monocoque. The car will be unveiled on March 1st 2011 at the Geneva Motor Show.