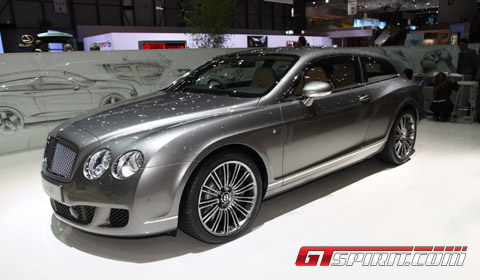 The Bentley Continental GT range is the basis to Touring Superleggera's plans for the new Flying Star; a touring or wagon of the Bentley Continental GTC. The project required the modification of a number of external dimensions starting from the car's A-pillar backwards: extended roof line, a wider section including the doors, new aluminium door skins and a new all-aluminium, electrically operated tailgate. It also includes a completely new rear compartment with two foldable rear seats and a variable loading space.
The twin individual rear seats fold completely to create a flat loading surface more than 2m long with 1200lt capacity. With the rear seats up there is enough space to store four full golfing bags.
From the A-pillar backwards, new exterior body panels were hand shaped in steel – including the roof, new wider rear wings, and the internal reinforcements of the complete rear section of the car. Aluminium was used for the door skins, and for the complete rear bonnet including its structure. New, handmade brightwork was added according to the new exterior design.
The Bentley Continental Flying Star by Touring inherits the chassis of the Continental GTC. The 6.0 liter W12 engine is available either in the 560hp version which delivers 650Nm of torque at 1600rpm or the GTC Speed variant which delivers 750Nm from 610hp. The car shown on the pictures features the GCT Speed specifications.
The Bentley Continental Flying Star will be available in a limited production run of up to 20 units. The series will be exclusively built to special order and customer specifications. The car is offered at a basic price of € 590.000 when based on a Continental GTC – 560hp. Other versions are available on request.
The car will be serviced at the Bentley dealers. Bentley Motors and Touring Superleggera have developed a special mutual warranty program, which safeguards warranty clauses for both the basic car, and the transformation by Touring.