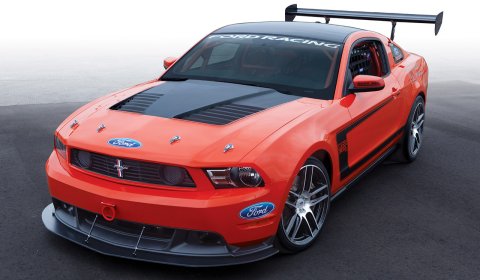 The brand new Ford Mustang Boss 302S is the latest addition to Mustang series and based on the street version of the 302. Ford Racing has announced the read-to-race Mustang Boss 302S, which is powered by a 5.0 liter four-valve Ti-VCT V8 engine producing up to 440hp converting the power via six-speed transmission to the car's rear wheels.
The Ford Mustang Boss 302S racer is offered with two-way adjustable coil-over dampers and anti-roll bars for both the front and rear. The 302S is also a lot lighter in comparison to the street legal version.
The factory seam sealer, sound deadener and interior panels of the standard 302 have been removed. The reinforced body, a six-point FIA legal roll cage, a Recaro Hans Pro-Racer lightweight race seat, six-point safety belt, quick release steering wheel and AIM data acquisition system with GPS complement the package.
The aerodynamics have been improved by the addition of a fiberglass heat extracting hood, adjustable front splitter and adjustable carbon fiber rear wing.
Production for the Ford Mustang Boss 302S is scheduled to kick of in the second quarter of 2011, with prices starting at $ 79,000.