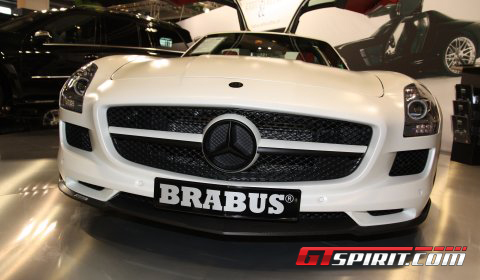 After revealing the Brabus SLS AMG at the end of August it stayed quiet, up this moment! We are the first online platform to show you the very first live pictures of a Matte White Brabus SLS AMG shown at the stand of the German tuner in Zurich.
The program for the SLS AMG includes a wide variety of options, like a body kit, a tire/wheel combination with diameters of 20 inches in front and 21 inches on the rear axle, a Brabus titanium sport exhaust system with four slanted exhaust tips, a height-adjustable Brabus smooth-ride suspension and a range of refinements inside the interior.
More information on the Brabus SLS AMG can be found here!