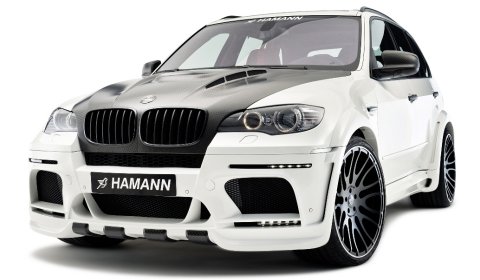 German tuner Hamann is back with a brand new package for the BMW X5 M. The Hamann Flash Evo M programme includes a bodykit, light alloy wheels, increased performance and visual enhancement within the interior.
A striking front spoiler will be fitted with two or four integrated LED daytime running lights, large air intakes that supply the engine as well as the brake system with fresh air. The carbon bonnet has additional air inlets and outlets to optimize the temperature inside the engine compartment. Side sill bars connect the fender extensions and give the X5 M a considerably higher presence. The two central tailpipes of the sport exhaust system are integrated into the diffuser that is installed into the rear spoiler. The carbon roof spoiler adds to the necessary downforce. Even the exterior mirror heads are carbon fiber.
Upon request, several 22 or 23 inch light alloy wheels are available. The Design Unique Forged "Anodized" rim is available in 23 inch with matt black anodized spokes. By using new suspension springs, the Germans have lowered the center of gravity of the BMW X5 M by 30mm.
Hamann offers two performance improvement systems: First, the ECU is optimized by removing the factory-installed Vmax restriction of 250km/h. Then, power is increased from 555hp (408kW) and 680Nm torque to 610hp (449kW) and a torque of 780Nm. Upon request they have add the HM 670 sports kit. In addition to the optimization of the ECU, a rear sports muffler and catalyst replacement pipes are being used. This way, between 1500 and 5650rpm, the torque is increased to 950Nm. According to the data sheet, 670hp (493kW) are also available and ensure that the Flash Evo M can reach a top speed of 300km/h.
A high-performance brake system, using 405mm diameter brake discs in front and 340mm diameter brake discs at the rear, is outfitted on the BMW SUV. Six-pot callipers provide the delay at the front axle, while four-pot callipers do their work at the rear axle. Steal flex brake lines prevent the dreaded fading during high stresses.
Finally within the interior, the first thing one will notice is the Hamann airbag sport steering wheel and the speedometer, indicating a top speed of 320km/h. Upon request, the in-house saddlery shop can provide you with two-coloured, quilted leather with decorative stitching and Alcantara, as interior finish. To round it all off, an interior package is available with appliqué made of visible carbon fiber and a stainless steel sill plate with an illuminated Hamann logo. The feet of the driver may rest on pedals and a foot rest available in optional silver or black anodized aluminium. Hamann floor mats and a trunk mat top off the luxurious appearance.