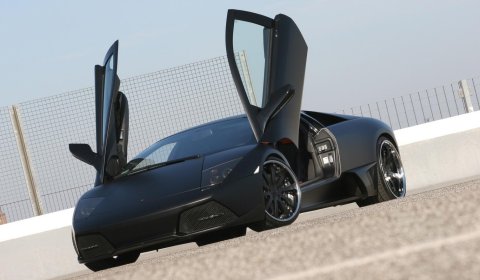 Unicate has revealed a special edition 2009 Lamborghini Murcielago LP640 and they have named it the "Yeniceri Edition" after an elite fighting troop of soldiers from the Ottoman Empire.
The exhaust system of the "Yeniceri Edition" gives out an amazing 120db whilst standing still. The exhaust system has been newly developed using the original tailpipes and increases the performance in the region of 20PS.
The ride itself has been lowered by about 1 inch (20mm). The Unicate Wheels "ConcavTen" have a Chrome outer lip whilst the center and inner lip have a Matt Black finish to match the body work. They have managed to fit 10,5×20 with a full 4 inch outer lip and 285/25 ZR 20 tires titeson the front and a massive 13,5×21 with a 6 inch outer lip and 375/25 ZR 21 on the rear.
The tuner has incorporated LED Daylight driving lights into the front grill under the bumper as well as adding five LED lights underneath each of the side skirts. The engine compartment now features LED lighting which shows off the Lamborghini engine.
The interior gets an overhaul including a carbon fiber and leather sports steering wheel. Nothing is spared as the carbon fiber finish also features throughout the interior with the speedometer housing, gear paddles, heating-/ radio housing and the middle console also having the high class finish. They have finished it off with a music system that has two way-system-boxes, amplifier and bass case.