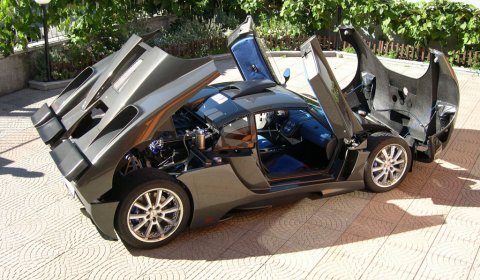 This is the brand new 2011 Simbol Design Lavazza GTX-R! New to us and new to you, but powered by a V12 engine producing up to 620hp capable of catapulting you from 0 to 100 in 4.6 seconds.
The Italian coupe/convertible sports car has a carbon kevlar body, weighs 1080kg and has a conventional steel-tube chassis with the V12 engine mid-mounted. The power is converted to the rear wheels via a six-speed gearbox with controls mounted on the steering wheel.
Pricing and availability have not been revealed, so stay tuned for more information!
[Via Serious wheels]