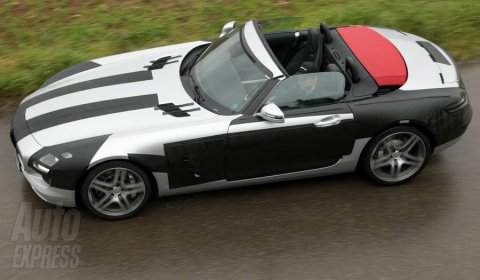 Auto Express has revealed the first pictures of the brand new 2012 Mercedes-Benz SLS AMG Roadster opened to the elements surrounding the test mule. The basis is the SLS coupé, which includes the 6.2 liter V8 and twin-clutch gearbox. The famous gullwing doors have been ditched in favour of a canvas top similar to the previous SLR roadster.
Insiders have revealed to us that the coupé production will stop at the end of 2011. The production will be limited! Mercedes-Benz will not produce the coupé next to the roadster, only one vehicle will be available on a single production line. So it is either the coupé or the roadster.
The convertible is set to make its debut at next year's Frankfurt Motor Show. Suggested price is close to £ 180,000.