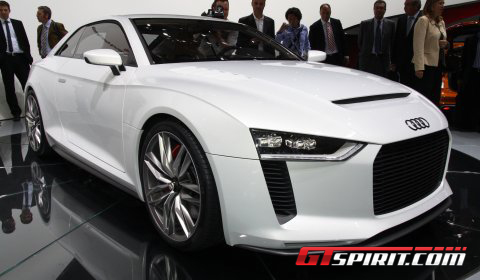 British car magazine Autocar reports that Audi is working on an engineering plan that will allow it to turn its Quattro Concept into a production vehicle. The unique sports car will be assembled in limited numbers on a dedicated line at the company's newly acquired sister firm, ItalDesign, near Milan. Stefan Reil, head of development at Audi's Quattro Gmbh division, confirmed plans for a limited production.
We are rethinking standard processes to make it possible. We know how to engineer it already. But we need feedback to see if it is possible. Audi has no heritage in building 200-500 cars that are really exotic. But it won't be over €100,000 [£86,000].
The vehicle will use the modified steel floorpan and four-wheel drive underpinnings from the RS5, but also the longitudinally mounted, turbocharged 2.5 liter five-cylinder engine.
It is uncertain when we will see the Quattro hitting the streets. When there is more to tell, we will of course inform you about it!