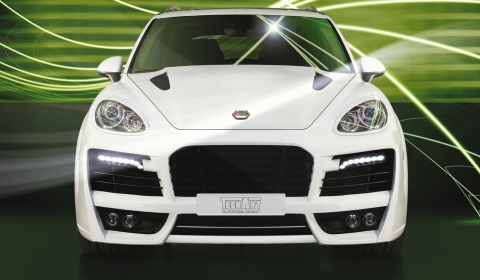 TechArt has shown us the first looks of the new second-generation TechArt Magnum. Based on the 2011 Porsche Cayenne the German SUV has an unique and more powerful appearance. The only picture available at this moment shows us the front side of the tuned SUV.
The Magnum front apron has two large air intakes, integrated daytime running lights as well as an additional xenon double headlamp unit and air ducts – which supply the front brakes with fresh air. The aero engine hood is made of carbon fiber with an integrated air outlet. Furthermore, the SUV has side skirts and elegant trims on all four doors. The body is 92 millimetres wider than standard.
The rear consists of a three-part tail light trim with an integrated spoiler shape in combination with the roof spoiler. The rear apron with integrated diffuser has space for the exhaust system "sport" in addition with the sport tailpipes in polished stainless steel. The air suspension module "sport" provides a lower standard normal level and an additional speed-controlled lowering while driving.
Furthermore there are Formula and Formula II light alloy wheels, in dimensions of 20- to 23-inch respectively 22- and 23-inch, as well as Formula III forged light alloy wheels, in 21- and 22-inch, available individualized in matched custom colours.
On the inside you are able to get a personalized interior and entertainment options for the new Cayenne like the roof mounted entertainment kit with an adjustable overhead monitor and a hand-made display console in leather. The three-spokes sport steering wheel and the paddle shifters complement the setup.
The Auto Zurich Car Show held from the 11. to the 14. November 2010 will be the stage of the world premiere of the new Magnum.