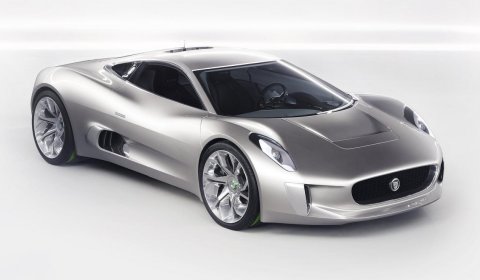 The brand new Jaguar C-X75 concept has been revealed ahead of the official debut at the Paris Motor Show. The 'hybrid' concept commemorate the brand's 75th anniversary and is powered by four electric motors, one for each wheel, total power 778bhp (580kW). Designed as a range-extended electric two-seater supercar, it explores the outer limits of both performance and sustainability.
The powertrain also includes micro gas-turbines that generate electricity for the batteries and are capable of running on compressed natural gas, diesel, biofuel and LPG. They generate 188bhp (140kW). In total the concept produces 800bhp and 1600Nm (1180lb-ft) of torque. The power provides a 0 to 100km/h (62mph) sprint in 3.4 seconds, 300km/h (186mph) in 15.7 seconds and up to a top speed of 330km/h (205mph). The range of the hybrid is up to 900km (560 miles).
On the inside the driver and passenger are seated ahead of a sealed airbox that houses the micro gas-turbines. The seats are fixed to the bulkhead as in a single-seater racing car, and air to feed the turbines passes smoothly around them via channels in the structure of the body. With the seats anchored in place, the steering wheel, controls, main binnacle and pedal box all adjust towards the driver.
Theater lighting is activated as the driver approaches the car; phosphor blue electro-luminescent wire lights illuminate the perimeter of the cabin and the turbines. When the car is started, additional blue LED lighting floods the door and bulkhead speaker cavities, highlighting the car's lightweight construction. Bespoke interior materials include cream and grey leathers, polished and vapor-blasted aluminum and a soft-feel textured neoprene. A new interface for the driver has also been created for the Jaguar C-X75 using high-resolution TFT screens.
Stay tuned for live pictures of the brand new and unique concept!