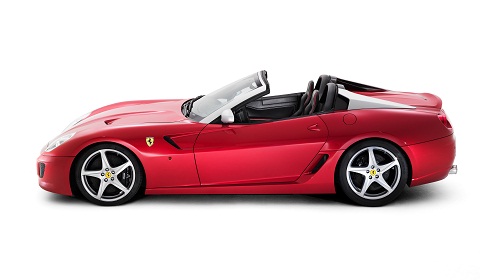 Ferrari have officially unveiled their centerpiece for this years Paris Motor Show. The SA APERTA is strictly limited to just 80 special editions. Each one stands to commemorate Pininfarina's 80th anniversary.
The car looks to be based on the 599. It features a 661bhp front-mounted V12 and significant modifications to allow the targa-type set-up you can see in the pictures. Ferrari say that there is a "light soft top designed to be resorted to only if the weather gets particularly bad" which to us means that there's probably a small umbrella – like the Bugatti Veyron Grand Sport has.
Ferrari say that the chassis has been redesigned to deliver a stiffness comparable to that of a closed berlinetta and that the weight difference is negligible.
Autocar are reporting that all of the 80 models are accounted for after a private viewing held at Pebble Beach Concours in California. Price will be somewhere in the region of £ 350,000 (€ 410,000).