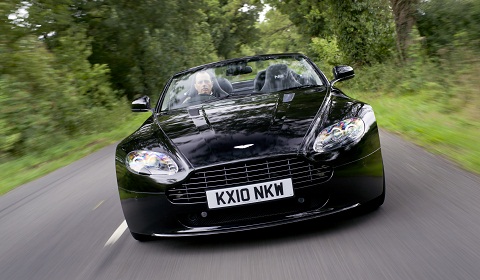 Aston Martin have released the first images of their N420 Roadster, due to be unveiled to the public for the first time at next weeks Paris Motor Show. Details are scarce at the moment but we believe that the Roadster will share its list of upgrades with its coupé counterpart.
As a successor to the V8 Vantage N400 of 2007, the N420 will likely use the uprated 4.7 liter V8 producing 420bhp and offer a 290km/h (180mph) top speed. Aston offered a six-speed manual or optional sportshift automated manual transmission on the Coupé N420, we expect the same from the Roadster.
Expect weight loses through the use of carbon fiber and lighter wheels. A carbon fiber splitter, side strakes and diffuser were all used on the N420 Coupé.
Inside, the N420 Coupé also featured graphite instruments, leather or Alcantara steering wheel, special N420 sill plaques and lightweight carbon fiber seats complete with 'Race Track' stitching as in the V12 Vantage. Bluetooth connectivity, cruise control and Park Distance Control were also standard.
The Coupé N420 cost owners £ 96,995 (€ 113,500) so expect the Roadster to nudge £ 100,000 (€ 117,000).