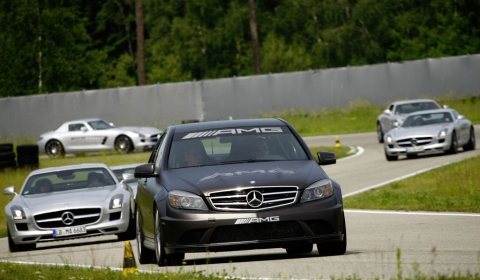 Like any other major German car manufacturer Mercedes has its own driving school. Germans have released the first information of the 2010 edition of the AMG Driving Academy. The program includes a wide variety of vehicles like the SLK55 AMG, C63 AMG, E63 AMG, SL63 AMG and the brand new SLS AMG. All the cars present at the driving academy will be equipped with the company's Performance package, which means they are a little bit more powerful than the regular models.
Founded by Mercedes-AMG in 2007, the AMG Driving Academy provides five different programmes: Emotion, Basic, Advanced, Pro and Masters. The level of difficulty is tailored to the participants' individual requirements. In the AMG Masters Sports Trophy, participants who are resident in Germany have the opportunity to acquire a national Level A DMSB (German Motor Sport Federation) driver's licence. Prices for the AMG Driving Academy programmes start from as little as 290 euros.
In addition to the diverse program held on European race tracks Spa-Francorchamps, the North Loop of the Nurburgring and Hockenheim, the AMG Driving Academy is also able to provide American sports car fans with tailor-made race track training sessions, for example on the Laguna Seca Raceway in California. A new addition to the team of experienced instructors is 27 year-old Scot Susie Stoddart, a current DTM driver in the Mercedes-Benz C-Class for the TV Spielfilm Persson Motorsport team.
Another experience is the AMG Winter Sporting event, which takes place in Arjeplog, Sweden – not far from the Arctic Circle. Participants drive the AMG high-performance cars provided exclusively on a closed-off ice surface. All the cars are fitted with special spike tyres.
Details of event dates and other information may be found here!