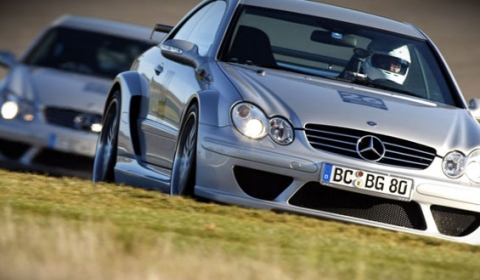 Mercedes-AMG has started a new season for driving enthusiasts who want to sharpen their advanced driving skills at the AMG Driving Academy. The 2010 season includes a new Pro Level and the SLS AMG. The AMG Driving Academy offers the opportunity to personally experience the excitement of motorsports and the track capabilities of Mercedes-AMG vehicles.
More than six-hundred driving enthusiasts participated in the advanced driver program last year. They now have the opportunity to attend an advanced three-day Pro Level program. AMG models like the E63 AMG, SL63 AMG, C63 AMG, SLK55 AMG and SLS AMG are availble while performing custom-designed exercises to experience and teach dynamic driving capabilities. Two tracks are available:
Road Atlanta (Braselton, GA) – May 15-16, June 11-14 & 28-30, 2010
Laguna Seca Raceway (Monterey, CA) – August 27-29, September 25-27, October 29-30 and November 12-14, 2010
The AMG Driving Academy Basic, Advanced and new Pro Level for 2010 program hold:
Basic ($1,795 per participant): Intense one-day track program focuses on performance driving dynamics. Participants learn the fundamentals of vehicle dynamics and car control maneuvers using customized exercises. Once participants perfect car control and handling, they progress to a set of high-speed exercises that make use of the entire track.
(Road Atlanta: May 15-16 & June 11-12, Laguna Seca Raceway: August 27-29, Sept. 25, Oct. 29-30 and Nov. 12)
Advanced ($3,295 per participant): Two-day program picks up where Basic leaves off, providing advanced training and technical on-track instruction. Onboard diagnostics and data capture enable detailed computer analysis and evaluation. The Advanced program is offered to drivers who complete either the Basic Level, AMG Challenge, European Driving Academy program or an equivalent course.
(Road Atlanta: June 13-14, 2010, Laguna Seca Raceway: September 26-27 & November 13-14)
Pro ($3,995 per participant): The pinnacle of the AMG Driving Academy curriculum, Pro program offers increased instruction while challenging and improving capabilities and skills to a much greater degree. During the three day program, participants train on the legendary Road Atlanta circuit. As speeds increase and skills improve, open lapping provides the maximum challenge and thrill. With an intense curriculum, AMG experienced instructors prepare participants to confidently negotiate the signature corners of Road Atlanta.
(Road Atlanta: June 28-30, 2010)
All fees include a dinner reception and introductory briefing the evening before the program, track hospitality, AMG Driving Academy certificate of program completion and an AMG gift bag. Participants are responsible for their own travel and accommodations.
You can enter the AMG Driving Academy via www.AMGacademy.com or by phone at 1-800-217-6916.