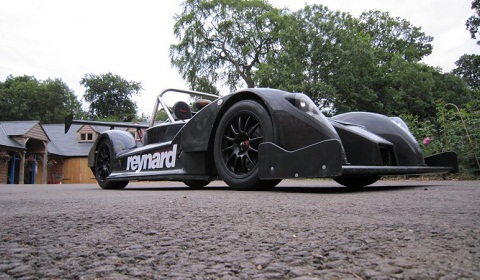 We first reported on the Reynard Inverter back in January 2009. Since then, the company have made a number of refinements and perfected the car. Now they have announced that the car will officially be available as a low-production model.
The Invertor passed its IVA-approval test allowing it to wear number plates and be registered for use on the road. For £35,000, you will get either a kit-car or a fully built model. Further to this, you have the option to choose either left or right-hand drive. US spec SCCA DSR CSR approved options are planned.
As you have probably guessed, the Indy 500 winning manufacturer has kept weight down. The car weighs just 440kg (or 400kg in race spec) and features a choice of either a 180bhp (1000cc Fireblade) or 200bhp (1340cc Hayabusa) engine. There's a Duratec / Sports 2000 engine in development too. With its wind tunnel tested body, the Invertor will put down an extra 1200kg of downforce allowing it to pull up to 3g in the corners. Top speed lies somewhere between 135mph and 150mph, depending on your car's options.
Reynard describe the car as an "open source design". Both the car and its components can be viewed online so anyone can manufacturer and design their own parts.
For more information on the car, please visit Reynard's website.
[Via Autocar]