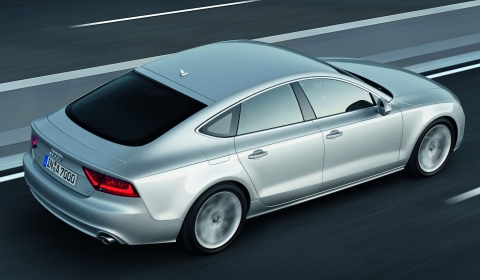 The Germans have finally officially releaved their latest addition to the line-up that will target a new market segment. The Audi A7 Sportback combines the sporty elegance of a coupe, the comfort of a sedan and the practicality of a station wagon, according to Audi.
Audi will initially offer the A7 Sportback with a choice of four V6 engines: two gasoline and two TDI units. The gasoline powered versions of the Audi A7 will have either a 2.8 FSI developing 204hp (150kW) and 280Nm (206lb-ft) of torque or a 3.0 TFSI V6 developing 300hp (220kW) and 440Nm (324lb-ft) of torque. The diesel power version of the Audi A7 includes the 3.0 TDI developing 245hp (180kW) and 500Nm (368lb-ft) of torque.
Audi offers two different transmissions depending on the engines. The continuous multitronic sends the power to the front wheels, while the seven-speed S tronic works together with quattro permanent all-wheel drive. The latest stage of quattro features a crown-gear center differential and torque vectoring.
The chassis comes with new solutions, such as electromechanical power steering. The large luggage compartment has 535 liter of space available. The five-door coupe is 4.97 meters (16.31ft) long and 1.91 meters (6.27ft) wide, but only 1.42 meters (4.66ft) high. Bi-xenon headlights and LED tail lights come standard, LED headlights are optional.
The A7 Sportback will be rolling into dealerships in the fall at a base price of € 51,600. US availability and prices will be revealed soon.