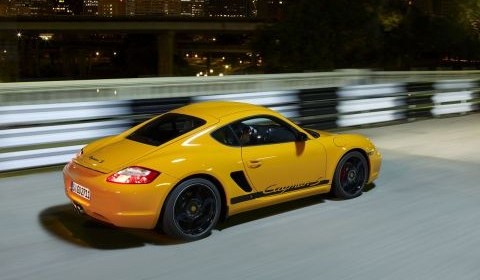 The Germans have officially given the green light to a new member of the Porsche Cayman model line-up; a lightweight version named Cayman RS, CS or Club Sport. The vehicle makes its official debut at the Los Angeles Auto Show later this year, according to Planet-9.com.
The news follows after the initial information released at the end of 2009. The 2012 model will go on sale somewhere next year for an expected base price of $ 66,330 (€ 51,227 or £ 42,854).
Similar to the Boxster Spyder the CS will have lighter components like the door pulls and a uniquely styled set of lightweight wheels resembling the ones outfitted on the GT2 RS. The following items have been circulated within the development team. It is uncertain which we will be available.
333hp 3.4 liter engine
Sport PASM suspension – 20mm lower than stock ride height
Air Conditioning, stereo system (Optional)
162-184lbs lighter than stock Cayman S
Aluminum doors, fabric door pulls
Lightweight hatch, optional lexan window (Europe only)
19 inch unique lightweight wheels
Sport bucket seats
Revalved steering assist
Locking rear differential standard
Uprated brakes (Optional)
Restylized front fascia
Cayman Club Sport side graphics
Rear diffuser
Ducktail-style larger fixed rear spoiler
Club Sport Insignia badging in interior
Optional "Track Pack", includes partial roll cage, harness and fittings plus fire extinguisher (Europe only)
Cited performance numbers – 0-100km/h (62mph) in 4.6 seconds