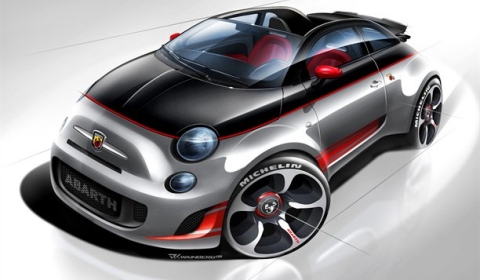 New information regarding the Abarth 500 Speedster has been revealed by UK car magazine Autocar. The Speedster was rumoured before, will become an extreme version of the popular city car and is inspired by the Zagato Abarth 750 T of 1959.
Two versions will be available; open and closed. The hard-top version will have the Zagato-signature double-bubble roof of the original. The new 500 body style is expected to remain exclusive to Abarth. Same goes for the two-seat sports car.
There will be interior upgrades too, and some versions will have their rear seats removed.
The Abarth coupé is likely to get the 178bhp 1.4 litre T-Jet engine from the limited-edition Abarth 695 Tributo Ferrari. An alternative option would be Fiat's new 1.4 MultiAir engine, currently used in the Abarth Punto Evo. That engine develops 163bhp and 184lb-ft of torque in standard form or 178bhp and 199lb-ft of torque with Esseesse tuning.