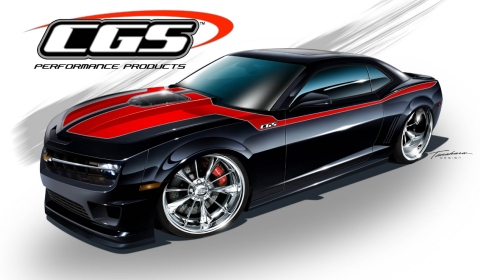 CGS Motorsports – known as manufacturers of Performance Products – is working on a special project for the annual SEMA show in Vegas. They will be customizing a new '11 Chevy Camaro.
This new GM muscle car will feature a custom paint, a ZR1 influenced hood, and body kit by ACS. The CGS team is also designing and building handmade chrome moldings. Custom leather from Pecca Leather, one of CGS's Cat-Back Exhaust Systems, and a Whipple twin screw supercharger producing close to 500hp complement the package.
Other modifications are 22 inch wheels up front a set of 24 inch x 15 inch rear wheels by Genuine Boyds and Pirelli's new 405/25/24 inch rear tires. The rear wheels and tires will be stuffed under the back without any type fender fairing. All the rear suspension will be replaced with Chris Alston's Fab 9 rear end with a latter bar and coil over suspension.
Any thoughts on the design?
[Via Autoblog.com]