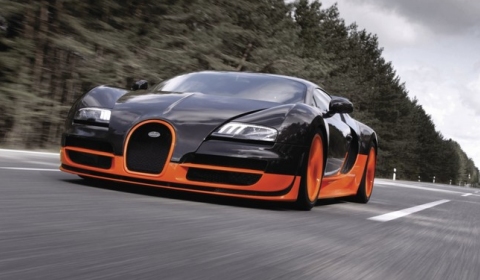 You may have heard of the brand new Bugatti Veyron Super Sport which set a new speed record of 434km/h (269.8mph).
The ultimate Veyron is currently the talk of the town in the automotive world. It seems that our favorite trio of tv personalities may have had something to do with the high-speed dash. The TopGear website reports the following:
Now, we wouldn't want to give anything away, but you know how TopGear has always been pretty intimately involved with high-speed runs in the Veyron? Remember, for example, James's blast to 253mph in Series 9? Well, let's just say… it would have been a bit strange for us not to have been part of this astonishing record run in some capacity. We're not saying any more, but keep a close eye on all things TopGear in the coming weeks…
What does this mean? The Stig broke the record? Captain Slow installed the speed tracking system? Did Clarkson design the wonderful orange/black paint job?
Let's stay focussed on TopGear the upcoming weeks and find out what the story holds.
[Via TopGear.com]