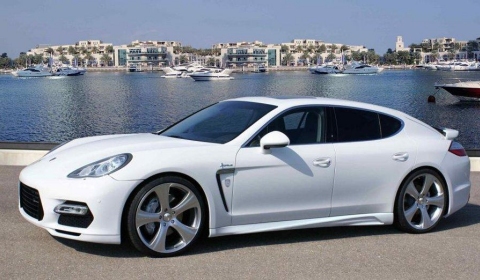 German tuner Hofele-Design has revealed their take on the Porsche Panamera. They called the program Rivage GT 970. The package includes a complete body kit with a front bumper with bigger and higher air vents, a distinctive front grill from the Cayenne Turbo and LED-daytime running light / indicator elements.
Other parts fitted to the vehicle are the bigger rear spoiler which surrounds the original Panamera rear spoiler and the side skirts. The rear bumper comes with a rear diffuser with an integrated central fog light. The diffuser has room for the combination with the serial exhaust system as well as for the combination with the Hofele 4-tube stainless steel sports muffler. In the middle area on the left and the right side of the bumper are two air vents with lamellas.
All plastic parts are made of the HPG-material and are being mounted to the original points of attachment on the Panamera. All parts are reversible.
Hofele offers 22 inch wheels from the K-Series. The Chrono-wheels are available in the dimension 10J x 22 inch. An electronically lowering module takes care of any obstacles. On speeds over 80km/h (50mph) the module switches back to the serial height. Additionally, a new brakes kit with six-piston brake calliper and perforated, inner-ventilated brake discs is available as well.
For the interior Hofele-Design offers a variety of different materials and colours to serve individual wishes.