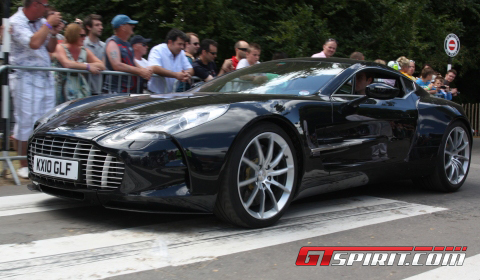 It is an Aston Martin with a 1.34 million euro price tag and only limited to 77 cars! There is only one car in the world covering all these three subjects. Exactly! It is the Aston Martin One-77 and we got the chance this weekend to have a closer look at the British supercar during the Festival of Speed at Goodwood.
The car was not displayed at the Supercar Paddock, nor was it shown at any stand on the event itself. The guys from Aston Martin parked the car somewhere at an undisclosed location. The supercar was only part of the supercar line-up which performed hill climb on Saturday and Sunday. By the looks of it, the One-77 shot in front of our camera was production ready. The special rear wing extracted above a certain speed, the metallic black body work seemed to be completely ready and the interior was finished as well.
The One-77 has a recorded top speed of 354.86km/h (220mph) making it the fastest Aston Martin ever. The limited edition is powered by a 7.3 liter V12 engine producing 710hp and 750Nm (553lb-ft) of torque. It is mated to a six-speed automated manual transmission that features an Auto Shift Manual/Select Shift Manual (ASM/SSM) electro-hydraulic control system. 0-100km/h (62mph) is reached within 3,5 seconds.
The Aston Martin One-77 was one of the highlights at the Festival of Speed.