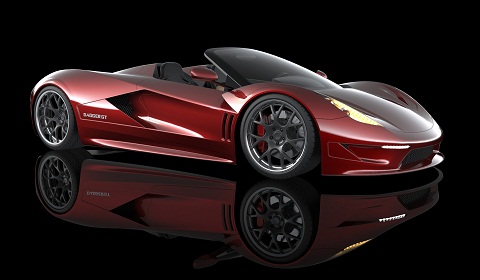 The Dagger GT project was recently unveiled with promises of 2000hp and a top speed of 300mph. The specifications put the Bugatti Veyron Super Sport to shame, however, the car is yet to hit the development stage so the boasting, we believe, is a little premature.
Another US project, the Dagger GT promises to be the fastest production car to date. Only five are to be made by 2011, three hard-core racing models along the lines of the Zonda R, a street-legal comfortable-riding sport model and a soft-riding, luxurious GT-X model. All will be street-legal and compliant to regulations in 49 US states.
Costs will start around $ 450,000 (£ 300,000 or € 360,000) rising with spec. All cars will be hand-crafted with only two production slots left before the project can take off. Order books may open once more for a further batch of ten cars in 2012.
The 2000hp will be produced through an aluminum, twin-turbo 572 multifuel racing engine built by Nelson Racing Engines. A custom TranStar/Mendeola six-speed transaxle geared to 308mph is also featured and expect plenty of carbon fiber. A high-strength 4130 Chromoly Steel chassis will be used to cope with the power.
Let us know what you think of the ideas below.