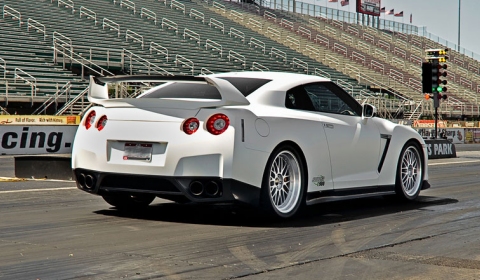 Tym Switzer's Ohio-based Switzer Performance is back with a kit topping the massively-powerful P800 GTR. Godzilla got 900hp, an extra whopping 100hp! The main deal here is the engine modification to run E85 ethanol gaining the amount of hp. Another subject highly needed was a different transmission. The newly developed transmission can handle the 900hp developed by the engine.
Tim Switzer explains:
The P800 is already at the limit of what we feel comfortable for the stock GTR transmission. So to go further we really needed to beef up the transmission. We contacted Dodson Motorsports in New Zealand and explained what our goals were with the car – 900 hp, more clutch area, ad smooth shifting at every speed. The new transmission is the product of several months' co-development between Switzer and Dodson, and is exactly what we needed in order to start pushing the GTR forward beyond 800 hp. The next thing we needed to address to keep pushing the GTR forward was fuel. We didn't want to just deliver a race-gas package that tethered the client to a fuel drum in his garage, but we wanted to be able to turn up the boost, also.
This first P900 also sports an Amuse carbon fiber aero package, three-way adjustable suspension, and 20 inch BBS wheels that are an inch wider than stock at all four corners. Switzer's new E85-fueled E900 PKG is available via Switzer Performance.