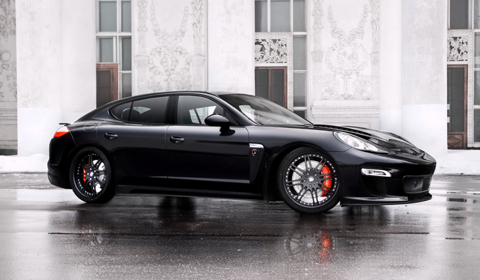 Here are the first pictures of the TopCar Panamera Stingray. Revealed to us as sketches in September of last year, TopCar have got around to producing the kit for an actual Porsche Panamera Turbo. Developed in collaboration with Cardi, body work specialists and also with 9ff, the legendary German Porsche performance specialists, TopCar have created a car they hope will entice customers away from other Panamera projects we've seen recently.
To start with the bodywork, the Stingray features carboxylic fiber construction for the re-designed front and rear bumpers, side skirts, rear diffuser, new bonnet and twin rear spoiler. In a move some might consider worthy of our overkill section, TopCar have also opted to continue the carbon fiber theme further into the cars interior creating a checker board style dash board and steering wheel insert that will most likely not be to everyone's tastes.
9ff upgrades are said to be quite subtle with a new exhaust system and an ECU being the only confirmed engine components for the moment. 21 inch multispoke alloy are fitted to this car as is a sport suspension system.
Two release dates have been given, the first being the Moscow Dream Car Show on April 2 for the home market, the second being the Top Marques exhibition in Monaco on the 15th of April. We hope to see it at the later, for now though, take a look at the picture gallery.