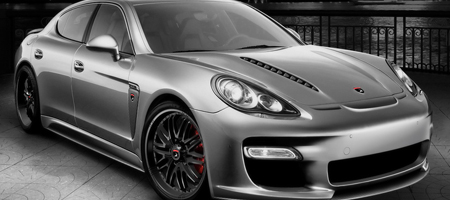 Russian tuner Top Car have released a few images of their Panamera Stingray ahead of an official launch at November's Essen Tuning Show. It's a stunning concept at this point. The bodykit has been produced in conjunction with Cardi, the Russian company who currently produce bodykit's for the Cayenne. No official statement has been made yet so we can only speculate on what we can see.
The body work is certainly the key feature of the car. It provides a whole new look through it's use of new air vents, spoilers, side skirts and diffusers. It's a basic kit that features in these photoshoped photos, a more aggressive version will be shown at a later date possibly making use of 9ff's extensive tuning knowledge as well as Cardi.
We're hoping that there's something interesting under the bonnet as well. We'll bring you more information about the car when we know more!
[Via CarScoop]