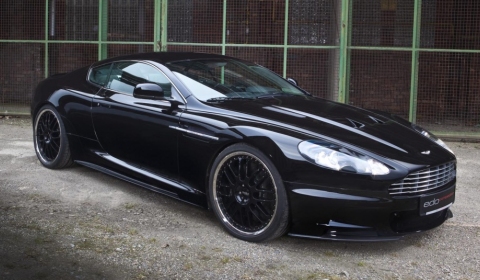 Edo Competition has taken the Aston Martin DBS into its workshop and created a complete program with appropriate enhancements.
The first point tackled was the power output. The engine control unit was modified via software recalibration. Thanks to a new high performance exhaust system, special catalytic converters and high flow air filters, power output was increased to a 550hp and 600Nm (442ft-lb). Enough to accelerate from 0 to 100km/h (62mph) in 4.1 seconds and continue on to a top speed of 320km/h (199mph).
The high performance exhaust system, which was specially designed for the DBS, incorporates butterfly valves allowing the driver to adjust the sound of the DBS. The exhaust comes with a programmable control system that monitors backpressure inside the exhaust and opens the 70mm butterfly valves when a pre-determined level of backpressure is exceeded. Chromed exhaust tips accentuate the design.
The edo competition sports suspension system is adjustability in height, compression and rebound damping, the setup can be matched to the customer's driving style.
The interior design of the DBS can be spiced up with the available carbon fiber shifter and shifter console, or the customer can opt for a custom interior in any color or material he or she desires, including handmade leather interiors.
Edo offers also several wheel/tire combinations. The DBS is equipped with a set of 21 inch racing wheels. The three-piece wheels come with stainless steel outer rims and the customer can choose the stock tire dimensions or go with a set of Continental tires in the following dimensions: 255/30 ZR21 (front), 295/25 ZR21 (rear).
A new brake system was installed. At the front 405mm rotors with six-piston monoblock calipers and performance brake pads and at the rear 380mm rotors with six-piston monoblock calipers and performance brake pads, including braided stainless steel brake lines.